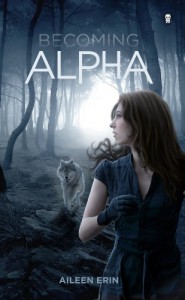 It was interesting in the beginning. Yes, the heroine has the psychic-hands syndrome (too much of that in YA these days) but the werewolf school aspect was engaging and new to me.

There were plenty of exciting things going on in this book:
Tessa has psychic powers about which she doesn't know much.
She has been turned into a werewolf (Apha) against her will and has to come to terms with that.
Her mother has been hiding her from her cousins' side of the family for some secret reason.
That is enough for me. Why couldn't have the author taken a deep breath and focused on Tessa and all those problems? Why did she take the insta-love boyfriend and make him the focus of the book?
I enjoy a good soul-mate romance. This is not a good one. It overtook all the things I found interesting about Tessa and turned her into just another hormonal mess.
I'm disappointed. Really.
In the end too much page space was wasted on teenage drama and not enough on character development and world building.
I'm hoping that in the next book(Avoiding Alpha)Tessa will focus more on herself but this description is not very promising:
"Seventeen-year-old Tessa McCaide has come a long way since her abrupt entrance into the world of werewolves, but she still has a way to go before she's comfortable with going full-wolf. So, she's avoiding thinking about it any way she can. Thankfully her hot mate, Dastien Larent, is proving to be quite the distraction."
Oh lord.